2019 Ford F150 Review
The 2019 Ford F-150 is the newest in a line of highly successful trucks. Like older models, the 2019 Ford F-150 has a large and comfortable interior, a high-power engine, and one of the best entertainment and information systems on the market. An enhanced Trail Control System as well as other improvements to the trucks V6 engine are also some of the new features for 2019.
Photos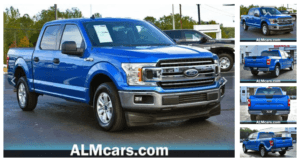 Features & Specs
The F-150 can seat 3-6 people comfortably. It gets 15-22 miles per gallon in the city and 18-30 on the highway. The truck includes a RWD, 4WD drive train, and it produces 250-450 of horsepower.
Configuration
The Ford F-150 is 17 feet, 5.3 inches to 20 feet, 10.5 inches in length. The height of truck comes in at 6 feet, 3.09 inches to 6 feet, 6.5 inches. It has a weight of 4,069 to 5,697. The exact dimensions of each truck will depend on add-on features and other specifics that can be ordered.
Safety
The Ford company has invested considerable money into producing safe and reliable vehicles. The 2019 F-150 has earned a five-out-of-five-star rating from the National Highway Traffic Safety Administration. It has also scored the highest rating possible from the Insurance Institute for Highway Safety.
Safety Features of The Ford F150:
1. Automatic high beams
2. Forward collision warning
3. Automatic braking
4. Pedestrian detection
5. Review camera
Additional safety features such as rear parking sensors, lane keep assist, blind spot monitoring can be added upon request.
Reviews
The reviews of this latest Ford truck have been largely positive. Critics have raved over the smoothness of the driving and roominess of the interior. They have marveled at the power of the engines and its capacity to tow and haul more than any other truck in this class. They also like the bed features and the easy-to-use infotainment system.